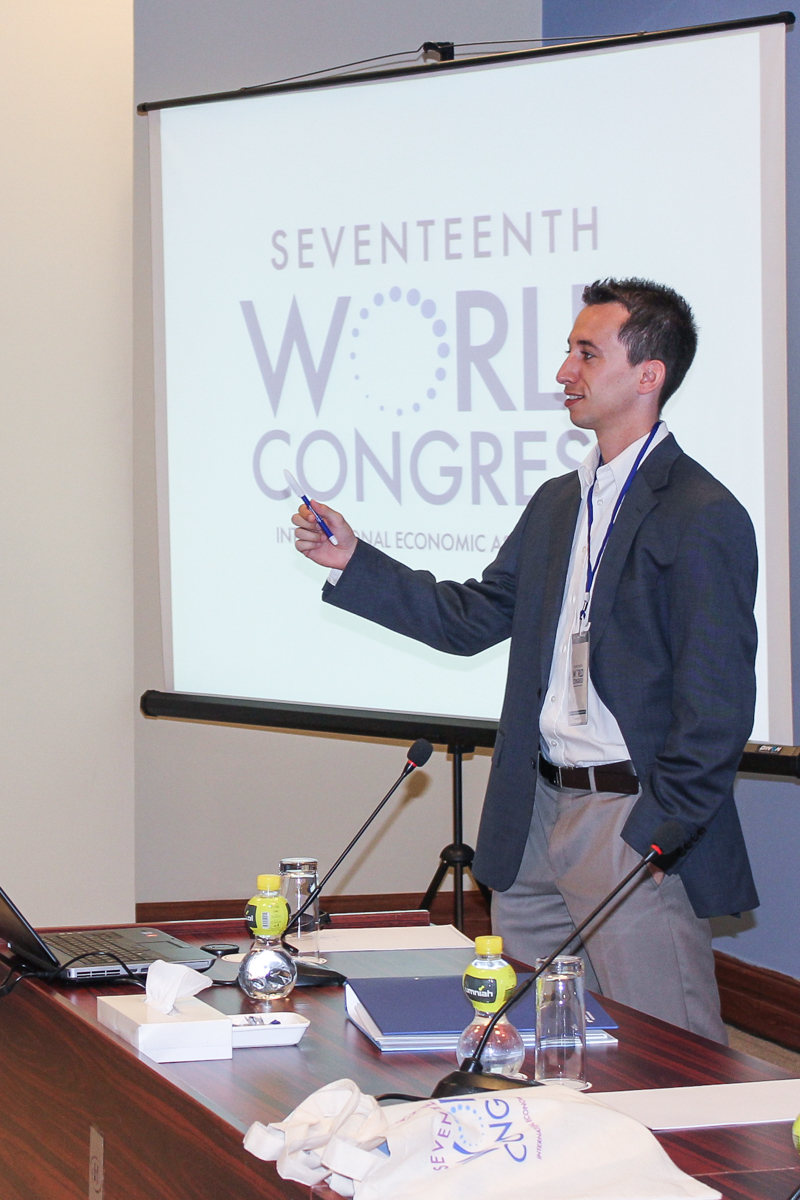 "Only the one who does not question is safe from making a mistake."
(Albert Einstein)
2017
Work in Progress: Sovereign Debt, Regime Type and the Rise of China: Re-Reconsidering the Democratic Advantage (With Andreas Fuchs and Daniel McDowell ), ().

In light of the theoretically (and empirically) ambiguous relationship between democracy and sovereign risk, our paper asserts that we should not per se presume that credit rating agencies' perceptions of democracy are exogenous and fixed. Instead, we argue that agencies' perceptions of democratic institutions are endogenous to culture, familiarity, and experience. Consequently, we expect that ratings agencies from stable democracies tend to view the presence of democratic institutions as reducing sovereign risk. On the other hand, rating agencies from non-democratic countries should tend to view the presence of democratic institutions more ambiguously—and perhaps even negatively. To test this argument, we exploit the recent emergence of two new global Chinese ratings agencies: Dagong and China Chengxin Credit Rating Group. We compare the determinants of sovereign ratings of these Chinese firms with the three big US agencies—Fitch, Moody's, and S&P—over the 2010-2014 period. In our panel econometric analysis, we use several measures of regime type, democratic institutions, the rule of law, and political stability to analyze whether Chinese and US agencies weigh these factors differently. Preliminary results show that all agencies care about the stability of rated countries, albeit to varying degrees. However, the rule of law does not plays a role in Dagong's assessment of sovereigns, while it enters into the assessment of all three U.S.-based agencies. This research holds broader implications on how the global power shifts towards emerging economies that have no or less experience with democracy are likely to affect the valuation of democratic institutions.

The origins of common identity: Division, homogenization policies and identity formation in Alsace-Lorraine (With Sirus Dehdari), Working Paper (May 2017). PDF | Online Appendix

We exploit the fact that disagreements in the German leadership after the Franco-Prussian War in 1870 led to a quasi-exogenous division of Alsace and Lorraine to provide rare evidence on group identity formation within historically homogeneous regions. In line with the rejection-identification hypothesis, people in the treated area which experienced a change in nation-status and exposure to discriminatory homogenization policies express a stronger regional identity and support more regional autonomy today. On average subjects with a stronger regional also express a stronger European identity, which we exploit in a regression discontinuity design at the municipal level to reveal whether these identity differences are causal. We find that support for the European Union is significantly stronger in two crucial referenda, a result that is robust across different specifications and bandwidths, and not driven by language differences, large agglomerations and distance to foreign countries.

Restoring Reputation? The IMF and Sovereign Creditworthiness (With Valentin Lang), ().

We examine whether IMF programs help countries to solve balance-of-payment problems by regaining their creditworthiness. We propose two identification strategies for a panel of 100 countries over the 1988–2013 period. First, we combine cross-sectional variation with plausibly exogenous temporal variation in the IMF's liquidity in instrumental variable regressions on the country-year level. Second, we use an event-study-like analysis at the monthly level with high-dimensional fixed effects and country-year specific time trends, focusing on the dynamics before and afterafter the timing of the announcement of IMF agreements. We show that in both specifications naive estimations yield downwardly biased coefficients, but that the causal effect of IMF programs on the sovereign credit ratings of the program countries is consistently positive. The results are remarkably robust for ratings from all major US agencies, from non-US agencies and when using assessments from private investors. We provide evidence suggesting that the channel is a positive signaling effect ("seal of approval"), as we find no consistent short-term effects of IMF programs on major economic fundamentals.

Work in Progress: Aid and conflict at the local level (With Lennart Kaplan and Melvin Wong), ().

We examine whether the local distribution of development aid projectsfosters conflict. using geo-coded data on the World Bank's 1995-2014 aid disbursements for more than 140 countries. Being able to localize these projects at the subnational and ethnic group level, we are also able to assess regional and ethnic inequalities in aid distribution across administrative units and ethnic homelands. Our identification strategy relies on an instrumental variable approach based on the passing of an arguably exogenous income threshold set by the World Bank's International Development Association (IDA) combined with the propensity to receive aid in prior years. This way, we are able to identify the impact of regional aid inflows on conflict for a large sample of low income countries in different regions of the world.

Work in Progress: Illicit economy and violence: The effect of opium cultivation on the geography of conflict in Afghanistan (With Sarah Langlotz and Stefan Kienberger), ().

We use georeferenced data on opium suitability and cultivation at the district level to explain the geography and intensity of conflict in Afghanistan. Our identification strategy exploits temporal variation in international prices of complementary drugs with spatial variation in land suitability for cultivating opium to identify the causal effect of illicit drug cultivation on conflict. Theoretically, opium cultivation may increase the opportunity costs of fighting for local producers and workers but could also increase their support for rebel groups who offer protection against eradication and expropriation.. Using geocoded conflict data from the UCDP Georeferenced Event Dataset to measure the intensity of conflict., our results show that opium has a deescalating effect on a set of conflict indicators over the 2002-2014 period. We find this effect both for the reduced-form as well as when we use instrument cultivation with the exogenous shock. It isrobust to the choice of the estimation method, to using high-dimensional fixed effects and when looking at conflict onset and ending. The effect is stronger in districts that possess a Heroin lab, an opium market, or are closer to a potential trafficking route, which should be able to extract a larger share of the revenue.
2016
Towards the Greater Good? EU Commissioners' Nationality and Budget Allocation in the European Union (With Stephan Schneider), ETH and University of Zurich CIS Working Paper No. 86 (February 2016). PDF | SSRN

We analyze whether the nationalities of EU Commissioners influence budget allocation decisions in favor of their country of origin. This is inherently difficult as no country related data on budget allocations for individual Commissioners are published by the EU. We are the first to propose a solution to this problem by using data on EU funds allocation and focusing on the Commissioners for Agriculture, who are exclusively responsible for a specific fund that accounts for the largest share of the overall EU budget. On average, providing the Commissioner is associated with increases in a country's share of the overall EU budget of about one percentage point, which corresponds to half a billion Euro per year. We consider alternative explanations using flexible country-specific time trends in addition to country and time fixed-effects and examining pre- and post-treatment effects. There are no signs of selection bias in terms of significant differences in trend behavior both before and after providing the Commissioner. The results are not driven by any individual country and selection-on-unobservables would have to be implausibly high to account for the estimated coefficient.

Information Transmission within Federal Fiscal Architectures: Theory and Evidence (With Axel Dreher, Christos Kotsogiannis and Silvia Marchesi), CEPR Discussion Paper 11344 (June). PDF

This paper explores the role of information transmission and misaligned interests across levels of governments in explaining variation in the degree of decentralization across countries. We analyze two alternative policy-decision schemes—'decentralization' and 'centralization'— within a two-sided incomplete information principal-agent framework. The quality of communication depends on the conflict of interests between the government levels and on which government level controls the degree of decentralization. We show that the extent of misaligned interests and the relative importance of local and central government knowledge affect the optimal choice of policy-decision schemes. Our empirical analysis shows that countries' choices depend on the relative importance of their private information. Importantly, the results differ significantly between unitary and federal countries, in line with our theory.

Regional Resources and Democratic Secessionism (With Stephan A. Schneider), ETH and University of Zurich CIS Working Paper No. 90 (October 2016). PDF | SSRN

We show that economic concerns revolving around region-specific resources are crucial to understanding the success and failure of democratic secessionist movements. Based on a simple voting model, qualitative evidence from numerous countries indicates a clear relationship between the value of regional resources and the electoral success of the respective regionalist parties. We then make use of a natural experiment in the United Kingdom, where the discoveries of oil off the Scottish coast allow us to implement a difference-in-differences design with Scotland as the treatment group and Wales as a suitable counterfactual. Using election results at the constituency level over the period from 1945 to 2001, we document a significant positive effect on the vote share of the Scottish National Party of about 2 percentage points for an additional giant oil discovery. The causal interpretation of this effect is further supported by exploiting the exogenous change in oil prices in a triple-differences design.
2015
2014
Geopolitics, Aid and Growth (With Axel Dreher and Vera Eichenauer), Center for Economic Studies (CEPR) Working Paper No. 9904. Revise and Resubmit at the World Bank Economic Review 4299 (March 2014). SSRN

We investigate the effects of short-term political motivations on the effectiveness of foreign aid. Donor countries' political motives might reduce the effectiveness of conditionality, channel aid to inferior projects or affect the way aid is spent in other ways, reduce the aid bureaucracy's effort, and might impact the power structure in the recipient country. We investigate whether geopolitical motives matter by testing whether the effect of aid on economic growth is reduced by the share of years a country has served on the United Nations Security Council (UNSC) in the period the aid has been committed, which provides quasirandom variation in commitments. Our results show that the effect of aid on growth is significantly lower when aid has been granted for political reasons. We derive two conclusions from this. First, short-term political favoritism reduces growth. Second, political interest variables are invalid instruments for aid, raising doubts about a large number of results in the aid effectiveness literature.
2013